Our Approach
"Universality"  is the philosophy used in creating the Focus Universal Smart Instrumentation Platform (USIP). It has brought a revolution to the field of instrumentation, measurement, control and automation.
The USIP utilizes a mobile device or computer to communicate with smart devices (sensors, probes, controllers) to monitor and control any functions, thus replacing traditional instrument hardware. The smart app interface supports real-time data monitoring facilitates instrument control and operation. A wireless data logger (Ubiquitor) acts as a bridge between the smart device and sensor data acquisition module. The Universal Smart Controller (USC) allows you to control any device by plugging the sensors into the platform using your smartphone.
Distinguished from traditional software, designed manually, the universal smart app is auto generated by the USIP to your smart phone within milliseconds.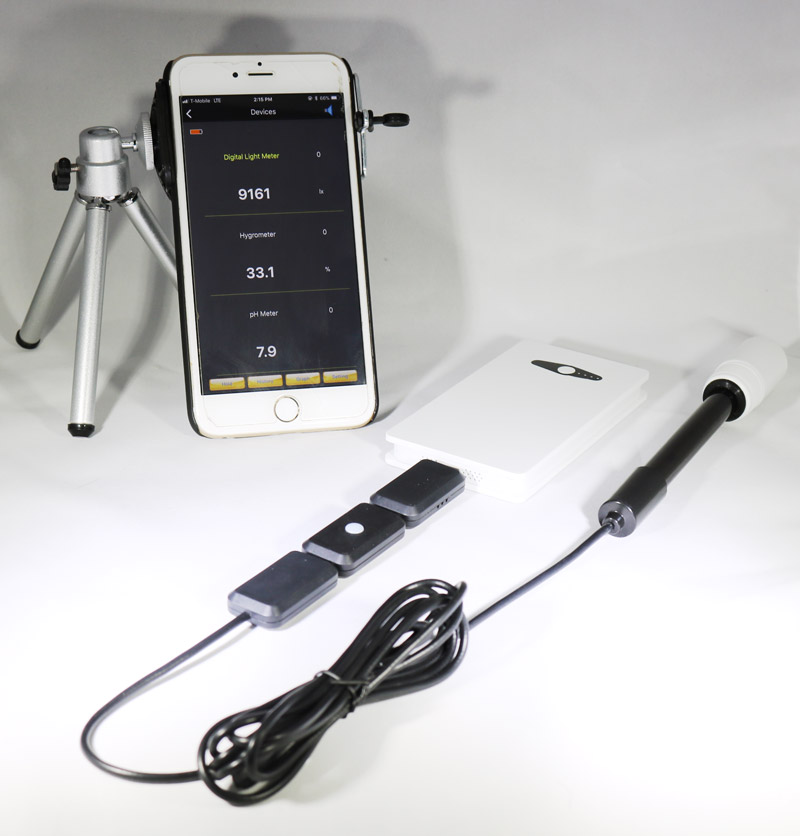 How It Works
The USIP is realized on mobile devices by applying the interactive graphical representation of control and indicator elements common in real instruments such as display, computation, information storage, knobs, buttons, dials, and graphs etc. A touch screen interface which supports real-time data monitoring facilitates instrument control and operation.
The USIP is a versatile network. One instrument could do many different measurements and controls and substitutes for many other instruments.
The Ubiquitor acts as a wireless bridge between the smartphone and data acquisition module. The Sensor module, which consists of sensors and data acquisition measurement hardware, measures electrical or physical phenomenon such as voltage, current, temperature, pressure, or sound. The USC combines the monitoring functionality of the Ubiquitor with the ability control any device with the USIP Smart App.
The self-adaptive universal smart application software automatically identifies and configures the attractive graphical user interface for the end users.
Focus Universal USIP Features
Universal Customization: The platform takes advantage of secure bi-directional wireless communications and interface supported by smart devices, universal smart instruments which deliver data between the devices and sensors that can be readily modified or upgraded. It achieves this by adding the actuators for controlling applications with no modification necessary in the smart app at a fraction of traditional instrument costs.
Interoperability - The interoperability and reusability among various sensors are achieved by centralizing all sensors and measuring equipment into our USIP that can be controlled from from any mobile device.
Cost Saving: Instrument modules for traditional instruments can be replaced by the reusable hardware and software of the USIP, which represents 90% of the traditional instrument.
Security: The Ubiquitor has a sensor security built-in data acquisition module and helps companies meet sensor security requirements and prevents unauthorized users from accessing the sensor measurement and control.
Ease of Use: Use the sensors in any combination and plug the sensors into an Ubiquitor, and it is ready for use. All communication protocols supported by mobile devices are integrated into the platform.
Scalability: The USIP allows end users to connect sensors from a few to several hundreds or even thousands of sensors. This is a major advantage from traditional instruments, which support vendor-defined sensors. This includes multiple sensors of the same type from different vendors.
Cloud instrumentation: Users can access the universal smart cloud-enabled device from its web interface using any web-enabled device. This allows a user to control the instrument, monitor and collect data, or change settings from anywhere in the world.
Fast prototyping: Our cost effective, production-ready wireless hardware and software shortens the design cycle used for similar instruments from a few years to a few weeks.
Get A Quote
Please reach out for a quote on devices or to contact us with any questions.